Gardening Programs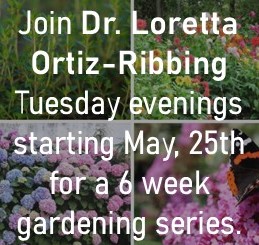 For Plants — What is Better than Sex?
Campbellsport, WI – The Campbellsport Public Library will offer their neighbors an awesome opportunity to learn how to propagate plants using asexual (without sexual reproduction) methods. Come and hear how on Tuesday May 25th at 6:00 p.m. right after the Farmer's Market.  This free educational program runs until 7:30 p.m. The Campbellsport Library is located at 220 North Helena Street. Due to construction please take Fond du Lac Avenue or W to Sheboygan Street the take a right onto Helena.
Dr. Loretta Ortiz-Ribbing, the former UW-Extension Assistant Professor Crops & Soils Area Agent for Fond du Lac County, will present Better Than Sex?—Asexual Plant Propagation©.  In the plant world, what could be better than sex? Why is asexual (vegetative) propagation needed to produce some of our major food and nursery crops?  Learn how you can produce a new plant from existing plant parts.  Acquire basic information and skills creating new plants using cuttings, division, layering, runners, and grafting.
Better Than Sex?—Asexual Plant Propagation© , is the first in a series of six weekly educational programs, offered by Campbellsport Library. The educational programs are:
May 25th — Better Than Sex?—Asexual Plant Propagation©.
June 1st — That Darn Weed©
June 8th — What Bugs You? ©
June 15th — Protecting Pollinators and Beneficial Insects Part 1©
June 22nd — Protecting Pollinators Part 2- Habitat in your Home Landscape©
June 29th — Chicken Soup for Sick Plants? ©
All workshops are free and will be on a Tuesday evening from 6:00 until 7:30 p.m. rain or shine.  Come dressed to spend time outdoors.  More information on all future programs will be forthcoming.
Space is limited. Registration is greatly appreciated but not required. If you have any questions and to register please call (920) 533 – 8534 or email director@campbellsportlibrary.org.  For more information about the Library go to www.campbellsportlibrary.org or like our Facebook or Instagram page.  The Library is open Monday through Friday 9:30 am until 5:30 pm.
These free programs are possible due to the Winnefox Library Grant.
Date/Time
Date(s) - 05/25/2021 - 06/29/2021
6:00 pm - 7:30 pm
Location
Categories